Noosh and I spent the weekend in DC with Matt, Chelsea, and Chelsea's wonderful parents and brother, Maxwell. The initial reason for the trip was the Rally to Restore Sanity and the March to Keep the Fear Alive. I was so excited about it. And since we live relatively close, why not?
Long story short, the line for the metro was out the wazoo, so Noosh, Matt, Chealsea, Max, and I ended up skipping the Rally and instead exploring Tyson's and eating. A lot.
Except, not eating in the city. Eating at Chelsea's. Because her parents, aside from being two of the sweetest people on the planet, are two of the most phenomenal cooks I've ever met. Friday night we had some herb-grilled chicken, squash with lentils and walnuts, and shredded Brussels sprouts. For dessert, Mrs. Sparta made two scrumptious coconut cakes [to make up for my birthday!] with chocolate-espresso sauce. One was low-carb, while the other was the normal, full-fat. Surprisingly, I preferred the low-carb one. She replaced the flour with a combination of almond flour, coconut flour, and soy protein powder, which made for a much denser cake. Since I should also be veering towards low-carb myself, she showed me some of her recipes and gave me some great tips which I'll definitely use in tortes and brownies. I pretty much idolize her ability to make low-carb desserts actually taste as delicious as the originals.
Saturday night, Mr. Sparta was gracious enough to let me creep over his shoulder [and occasionally stir!] as he cooked dinner. We [though mostly he] made lobster and clam chowder, roasted eggplants stuffed with an onion, tomato, and mint mixture, and grilled flank steak marinated in olive oil and garlic. Absolutely
delicious
. In the hour and a half or so that I was popping in and out of the kitchen, Mr. Sparta gave me some fantastic tips [don't let mushrooms absorb water before cooking, save lobster shells to make your own stock, let meat come to room temperature before grilling for a more uniform steak, the secret to good chowder is thyme, etc. etc.] that hopefully will come in handy if I ever attempt anything as delicious as the food I watched him prepare.
And, of course, the dinnertime conversations and company were some of the best one could hope for. I can't say I was too disappointed about having missed out on the Rally [besides, Noosh and I watched Stewart's speech online earlier today and pretended we were actually there] because it gave me an opportunity to hang out with some of my favorites and enjoy food with people who fully appreciate it as much [if not more] than I do. I can't remember the last time I was doubled over with laughter during dinner, talking about everything from Jerk Animals to Monty Python to Disney chicks to Jackass 3D. Plus, I got the best thing EVER from Barnes and Noble, courtesy of Matt's brilliant detective skills.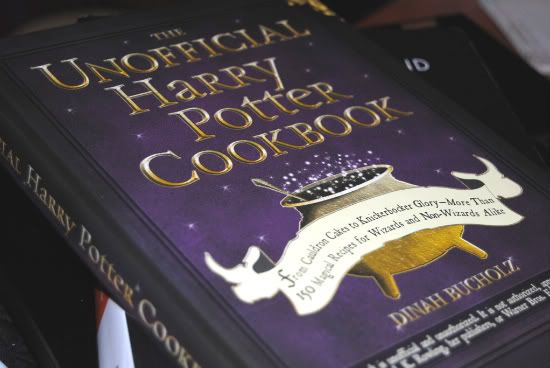 AWWWWW YEAHHHHHHHHHHH.
Deathly Hallows: Part 1.
Soon. I mean, I could really go for some Chiddingly Hotpot and Pumpkin Pasties.
Overall, this weekend was rated a solid A.
Which is the exact opposite of the grade I'm going to be getting on tomorrow's Logic Midterm.
Ugh. Can't I just replay this weekend over again instead?