Today I took a break from exam studying to bake an apple cake! Which I'd been meaning to do for a while now.
Not to mention it tasted like autumn in cake form.
A few weeks ago, a group of friends and I went up to Carter Mountain Orchard to pick apples, and I picked a fair amount of Winesaps to use for baking.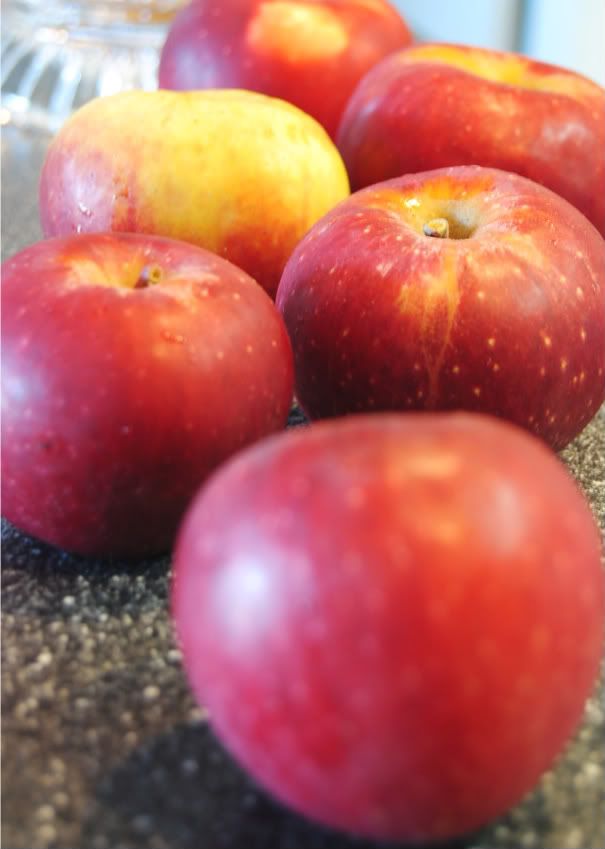 mmmm...apples...
soupbelly
for an apple cake with lemon glaze [although, I ended up making a lime glaze because we only had lime juice on hand, but I'm sure the lemon would have given it an extra kick].
I let the cake cool while I went to take my exam, and I had actually forgotten about it until I walked in and smelled the cinnamon and apple. Talk about a pleasant surprise! Made the glaze and drizzled it before I had dinner, then cut a slice for Noosh and myself. Yum.
And not even that bad for you! Whole wheat flour, applesauce instead of oil; it's practically a health food, really.
Right?
Don't answer that.
Well, I like the entire current holiday season. But Thanksgiving is in a league of its own, with all its gastronomic prowess.
And mom gave me the 'honor' of cooking our entire Thanksgiving dinner, meaning she's either giving me a false sense of culinary self-worth before telling me she already has dinner planned out, or she plans on watching me make a fool out of myself in the kitchen. I'll probably destroy the turkey/light something on fire and run to her for advice/grovel at her feet for help, but until then, the thought of cooking dinner is keeping me happy.
Plus, it'll be nice to be home for a bit.